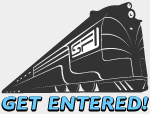 The June 2016 UNSTOPPABLE contest is now underway!

Enter now to compete for:
• $1300 in cash and Signing Bonuses!
• Exclusive SFI gear!
• Special "I am UNSTOPPABLE" badge
MORE WAYS TO WIN:

1. Win a share of over $100,000 in cash and prizes in our exclusive Entrepreneur365 (E365) Challenge. Learn more.

2. Locate the answer for today's SFI Biz Quiz and get entered in our daily drawing for a $50 addition to your Signing Bonus account.
Yesterday's $50 winner was Danijela P .

3. Every hour (24 hours a day) at TripleClicks.com, you'll have the opportunity to submit a free entry to win two free TCredits. At the end of each hour, we draw 30 winners–that's 720 winners each day! Submit your entry RIGHT NOW.

4. Submit distribution info on your gift cards at your Gift Card Tracker Report and be entered in our daily drawing for valuable prizes—including 20 free TCredits, free 30-pack of TripleClicks Gift Cards, 50 free Bonus VersaPoints, or 100 free Member Rewards Points. Learn more.
You are entered into the Daily Grand drawing for 06/02/16 (5 entries)