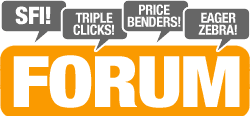 Join in-depth discussions of SFI news, products, programs, and more with your fellow SFI affiliates. Brainstorm and share tips and ideas. Start new threads. Get your questions answered 24/7, become a forum guru, and more! https://www.sfimg.com/forum/thread?id=38837
19 ways you can earn VersaPoints for free!
12/30/2015
There are MANY actions on your SFI To-Do List that will earn you UNLIMITED VersaPoints without having to purchase anything. These actions include:
1. You can earn unlimited VP selling any of the over 80,000 products and services at TripleClicks. Learn all about how to refer TripleClicks members at the Generating TripleClicks Sales Training center.
2. As a Team Leader, you can earn 100 to 500 VP (monthly) for each personally affiliate (unlimited Support points). Learn all about how to sponsor affiliates at Sponsoring Affiliates Training center.
3. Earn 100 points for each approved/activated ECA you refer to TripleClicks (unlimited points). NOTE: You will receive your VP once your referred ECA generates its first $10 or more in sales. Learn more.
4. Earn 500 points for earning a Payoneer MasterCard Debit Card. Learn more.
5. Earn 25 VP for reviews of physical and TC Direct products you've purchased within the last 30 days (45 days for international affiliates) from TripleClicks.com.
6. Earn at least 5 VP in each Spin & Win contest. Learn more.
7. To build excitement and momentum in your group, Team Leaders can reassign a portion of the affiliates they've sponsored to their "Movers" or other personally sponsored affiliates. Earn 5 points for each reassignment (unlimited points).
8. Log in at the SFI Affiliate Center each day and earn 11 points daily for reviewing the tabs on your home page.
9. Earn 20 points weekly for sending a group message to your team (Must have minimum rank of EA2 to receive VP).
10. Earn 10 VP monthly by rating your SFI Sponsor and Co-Sponsor.
11. Earn up to 3 points weekly for posting a Stream message.
12. Earn 5 points monthly for reviewing your TripleClicks TConnect page.
13. Answer questions at ASK SC and earn 100 VP if your answer is voted as the best, 50 VP if voted second best, and 25 VP if tied for third through tenth most votes. There's no limit on these points.

What is the best way to earn VersaPoints quickly and easily?
Sort answers:
Affiliate since: 06/07/2012, Power Rank: 99999999
I wanted to share some FREE ways to get the points needed to become an EA or Team Leader. Many of us have already used the points for the training material, etc. that garner lots of points, BUT here are some other ways.
1. Every day you can earn 10 VP for a total of 300 points in a 30 day month just by doing the following:
Click on your "to-do list" tab on your SFI homepage and after reviewing the information on it, click on the rectangle at the bottom "I have reviewed
…
more
Robert Weiser , GTL* (Nevada, US) 7/9/2012 4:08 pm
There are several easy ways for you to earn Versapoints; first of all, you should have a standing order of 1500 VP's or more. Secondly you should perform all the actions indicated on your TO DO list each and every day. Thirdly, do send out 4 group support messages to your team members,whether they are PSA's, CSA's, or other, and you will earn 120 VP's per month for doing so. Thirdly, don't forget that if you participate in the Pricebenders penny auctions, not only do you have a chance to win products
…
more
Nicki Roy , AFF (Ontario, CA) 7/5/2012 11:06 am
The best way to earn VP is to combine many of the methods available to you. The three top earning methods would be:
1. As you start out you can earn 360vp a month just for checking your home page tabs
2. Bring strong affiliates in to work with you. Some of the largest quantities of VP come from supporting the people you bring in.
3. Tripleclicks sales. Your own purchases or clients you have brought in this is a great way to earn VP. Note; if you use the advanced search option
…
more
In order to earn lots of points you first need to know what activities bring you points. As well one need to realize that some activities should be done daily – like collecting 1 point per visit on your Homepage, some activities should be done weekly like sending group messages to your team and some needs to be done monthly, like having your Standing Order or participating in Pricebender auctions. Since it takes some time to build a team, so you can collect VPs for leadership achievements, in the
…
more
J S , EA2 (Singapore) 7/9/2012 11:13 am
The easiest way is to visit (and review) each tab on the SFI home page daily, which will give you 8 VP (including the newest tab 'Ask SC'), and to review TripleClicks' latest products which will give you another 2 VP, so you can easily accumulate 10 VP daily. For a sustained influx of VP, the best way may be to set up a standing order, particularly for a IAHBE membership. The latter gives you 1,500 VP every month that you remain a member, and provides additional resources to aid your home-based
…
more
Marco Bonomi , BTL* (Italy) 7/5/2012 1:23 pm
Affiliate since: 03/23/2003, Power Rank: 1337
I think that one person must act daily and makke all
the aactions fi suggest.One should
log in every day,make the daily
actions and post some ads.Repetita iuvant say the elders.Help your team in every possible way.Happy earnings!!
Donald Braswell , EA2* (Pennsylvania, US) 7/1/2012 1:31 pm
standing orders and to do list are good ways to earn points but also tripleclicke is another effective way to get points also.
Zdenko Karaga , EA2* (Croatia) 7/1/2012 1:31 pm
With daily, weekly and monthly activity is good and effective to buy a couple of times per TCredits.
Pay or MRP or 1.95 USD for each TCredit get 102 VP.
You can also put on a standing order of several individual TCredita guaranteeing you a safe securities each month.
Good luck to everyone.
Leslie Jenkins , BTL (New york, US) 7/5/2012 11:04 am
Review Your RED Tabs, and Purchase items at Triple Clicks
Williams Ford , BTL (Georgia, US) 7/5/2012 2:41 pm
If you mean earn FREE versa points, then all of you to do is to follow your To Do list and take the daily actions required to get those versa points. There are several "getting started" versa points available to new affiliates. Add those with your daily actions and you can become an EA in your first month! Then in your second month, you can earn about 500 versa points from daily actions and 500 from participation in Price Bender Auctions and 500 from your purchases and maintain EA2!
…
more
Continue Learning how to earn more Versa Points:
14. You can win hundreds of VersaPoints every week by entering the Daily Grand drawing.
15. Earn 5 VP for creating and uploading your TripleClicks avatar.
16. Earn 5 points each month by setting your month's goals before the 10th.
17. Earn 50 VP just for installing a TripleClicks banner on your personal Website or blog.
18. Play the two FREE Card King games available each day and possibly earn up to 500 VP from Card King "duplicate card bonus" spins. Learn more about playing Card King HERE.
19. Finally, you can earn more than 1,400 permanent, one-time VP by completing various tasks listed on your VP Ledger:
Earn 955 permanent, one-time VP by completing all tasks in the Getting Started section in your VP Ledger.
Earn 300 permanent VP by completing all LaunchPad lessons and accompanying quizzes.
Earn 200 permanent VP for reviewing your sponsor's welcome message, reading designated training articles and reviewing select indexes at the Affiliate Center, as outlined in VP Ledger's Intermediate section.
All that said, make sure you're not focusing totally on VersaPoints. Yes, income can be earned from accumulating VP, but the primary role of VP is to determine your rank. As SFI BASICS explains, the way you create large incomes in SFI is through sales, sponsoring, and duplication. We strongly urge you to review SFI BASICS and follow it's guidelines!