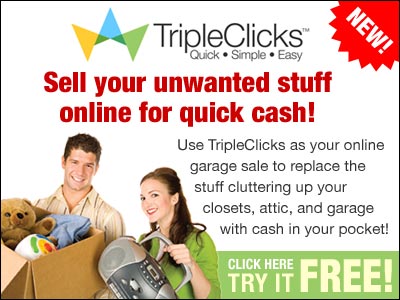 Why sell your stuff on TripleClicks?
1. TC is one of the biggest and trusted online buy and sell sites
2. He needs to register to sell his goods or services
3. Apart from the initial signup fee where applicable, will not spend money on common expenses associated with a physical store like rent, utility, staff, furniture and fittings etc
4. All he needs do is to deliver products after ordering by customers. TC takes care of the ordering and payment processes, so the potential ECA has lesser work in sales processing and will get paid directly by SFI/TC.
5. As a consequence of 4 above and for providing the platform, TC charges a nominal 15% fees on any sales, so no sales not charges.
6. There is a potential huge market waiting because of the millions of TC and SFI members who will be his potential customers.
7. There is also the possibility to benefit from advertisements and other promotions of his products by a huge and significant number of SFI affiliates.
8. Finally, tell your prospect that he can always opt-out, but that there are many ECAs, including (maybe) from another country that are very successful as TC ECAs.
Reference: http://www.tripleclicks.com/14960371/ECA