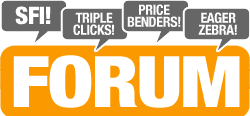 It's a fresh, new week! Check out some of SFI's newest developments to help you reach new heights this week!
______________________________________________________
NEW ECA REFERRAL GATEWAY!
We're pleased to announce a brand new gateway for signing up ECAs!
Check it out at:
http://www.tripleclicks.com/XXXXX/ECA
(XXXXX = your SFI ID number)
Refer companies that sell products to your ECA Gateway. For each ECA approved, you'll earn an immediate 100 VP when that ECA lists their first product AND up to 10% of the CV (Commission Volume) on ALL of their sales at TripleClicks–for life!
For more ECA marketing aids, see:
https://www.sfimg.com/Resources/ECAMarketingIndex
Learn more about the ECA program at:
https://www.sfimg.com/Support/index?category=26444&folder=42424
For numerous ECA referral tips and ideas, see:
https://www.sfimg.com/Home?tab=ask_sc&display=open&category_id=15
Today's gateway is just the beginning of numerous improvements and additional marketing aids we'll be introducing over the coming months.
Become an E-Commerce Associate (ECA)
SELL YOUR PRODUCTS AT TRIPLECLICKS!
Go global! Reach millions of shoppers worldwide on one of the fastest growing, international e-commerce sites on the Web.
Put the marketing muscle of over one million SFI affiliates to work for you, promoting and selling your products in over 20,000 cities in over 190 countries!
No listing fees and no risk. Simply sign up, upload your products, and start taking orders. TripleClicks retains a nominal amount only when you make a sale.
TripleClicks further facilitates sales growth by providing you with your own customized "TConnect" Website, a multitude of payment options for your customers and much more!
To become an ECA Member (sell your products and services) go here next:
http://www.tripleclicks.com/14960371/ECA
JOIN THE DISCUSSION at:
https://www.sfimg.com/forum/thread?id=11007
<><><><><><><><><><><><><>
DEADLINE IS TODAY TO RETAIN YOUR CHOSEN A2A FRIENDS!
As we recently announced, in an effort to prevent abuse and increase efficiency, a2a is now limited to a maximum of ten a2a friends. If you haven't done so already, go to your a2a page in the Affiliate Center Support area and choose the ten a2a friends you wish to retain by 11:59 pm CT TONIGHT (Monday, March 23rd). While you're at it, be sure to choose those old a2a friends you want to follow at the Forum.
Get started by going to: http://www.sfimg.com/a2a
TIP: Select "Old Friends" or "Old Top Friends" to see your existing a2a friends.
IMPORTANT: If you don't make your a2a choices by tonight's deadline, you'll have to start fresh and select a brand new list of a2a friends.
<><><><><><><><><><><><><>
IMPORTANT NEW GROUP MAILING POLICY
With SFI's massive growth over the last couple years, group mailings by affiliates have become an issue.
Every day, around the clock, huge mailings totaling hundreds of thousands of e-mails, are being sent out. We have determined that this massive amount of e-mail distribution and its impact on our servers is now regularly causing vital corporate messages to be significantly delayed or not sent out at all (important notices of all kinds, newsletters, and more). This is of course extremely harmful on numerous levels.
So why not just beef up our servers? We wish it were that simple! But with millions of e-mails going out daily, some of the major e-mail services are responding by "gray-listing" (temporarily blocking us)–which could easily lead to black-listing (permanently blocking of all e-mails from SFI). If we can't get our critical e-mails to our affiliates, and you can't get your e-mails to your downline, this could be a devastating blow!
Therefore, effective immediately, we are placing weekly limits on how many e-mails you can send out from the Genealogy report.
Note that there are NO limits on mailings to your PSAs. The limits apply ONLY to your CSAs and those in your 2nd-12th generations:
* For non-Team Leaders, the limit is 1,000 e-mails/week
* For BTLs, the limit is 2,500 e-mails/week
* For STLs, the limit is 5,000 e-mails/week
* For GTLs, the limit is 10,000 e-mails/week
* For PTLs, the limit is 20,000 e-mails/week
* For DTLs, the limit is 25,000 emails/week
For those who might need to occasionally go beyond these limits, we will be putting in place a way to pay (via TCredits) for extras. Watch for the announcement.
For more details, see the complete announcement at the SFI News blog:
http://news.sfimg.com/2015/03/20/important-new-group-mailing-policy/
JOIN THE DISCUSSION at:
https://www.sfimg.com/forum/thread?id=11970
______________________________________________________
YOUR WEEKLY TIP
Leadership Tool: Profile Scores
Identify potential future stars in your affiliate team with Profile Scores!
Here's how it works: Our system reviews the responses your affiliates have given to questions on their Affiliate Profiles. We assign a point value to each response to help identify affiliates who have set high goals, committed to investing significant time or money into their new business, are experienced in network marketing or Internet marketing, and/or who have past leadership experience, and so on. These point values are all added altogether to create the affiliate's Profile Score.
These Profile Scores allow you to quickly get an idea of your affiliate's level of motivation and commitment, and maybe even an insight into the kind of affiliate this person is going to be.
That said, there are limitations to how much weight you should put on the Profile Score for any given affiliate. Keep in mind that the score is only a number based on Affiliate Profile responses. A high score does not guarantee a future Platinum Team Leader. Likewise, a low score doesn't necessarily indicate that an affiliate is going to go nowhere. High or low, ALL your affiliates should be greeted with enthusiasm and strong support!
You can find Profile Scores in the e-mail notifications you receive whenever one of your PSAs completes their Affiliate Profile. You can also find Profile Scores in the PS column under the "Aff Mgr" tab in your Genealogy report (https://www.sfimg.com/Reports/Genealogy).
______________________________________________________
ECA TIP OF THE WEEK:
Are you driving your potential customers away?
The fact is, if customers arrive at your ECA TConnect storefront only to be greeted with a skimpy, poorly written store description–or even worse, NO description–the answer is a resounding YES!
Along with your logo, your company profile appears atop your ECA TConnect Website and will be the first thing your customers see when arriving at your TConnect page. Its importance to your success at TripleClicks.com, therefore, is VITAL! A succinct, well-written, and meaningful business description free from spelling and grammatical errors could entice your visitors to stick around, review your products, and perhaps make a purchase (or at least keep you in mind for future purchases). Whereas, a shoddily written, cryptic, overly brief description will only convey an unprofessional attitude. And NO description just says "I don't care enough to bother." Any visitors who land on your TConnect page will most likely leave your storefront immediately, never to return!
Most likely, your goal is NOT to drive customers to other ECAs. Fortunately, you can fix this issue quickly and easily. Keep the sentences of your store description simple and straightforward and relevant to your business. Be SURE to include the following information:
1. The types of products/services you're offering (i.e. handmade crafts and jewelry, proofreading services, etc.)
2. Why you're a great choice for customers (i.e. years of experience, variety and/or quality of products, great customer service care, fast shipping, etc.)
Your business profile should NOT include:
1. Your SFI Gateway (if you're an SFI Affiliate), nor any other URL address to any other site outside of TripleClicks.com. Your TConnect page is your actual storefront and is strictly designed to showcase your retail business and sell your items and services at TripleClicks.com to customers. This is NOT the place to recruit affiliates or prospect for those interested in a business opportunity or redirect people to other Websites.
2. Information NOT related to your business. For example, although someone's volunteer work with Meals on Wheels may be a positive life aspect, it's really not relevant to his or her TC business selling cosmetics, electronics, or other unrelated items.
For more details and a helpful step-by-step tutorial, check out this section of your ECA Guide:
https://www.tripleclicks.com/ECA/ProfileTips.php
______________________________________________________
ASK SC QUESTION OF THE WEEK
How do I reassure prospective TripleClicks customers that shopping is safe and secure and they will receive delivery of product?
67 answers (top authors: Nastipura Ibrahim, Idriss A Diaw, Wayne Crocker)
https://www.sfimg.com/Home?tab=ask_sc_question&id=10007425
______________________________________________________
ECA SPOTLIGHT
TripleClicks now features the products and services of 3,908 ECAs (E-Commerce Associates) from 148 different countries! Check out this week's featured ECA. And be sure to connect with them to receive notices about future hot deals, closeouts, and sales!
Sinash Store
Nalgonda, INDIA
ECA Customer Rating: Very Good
Peruse through a variety of exclusively branded products in a wide range of categories–from jewelry, accessories, and clothing to electronic gadgets, children's toys, and home decor.
Check it out at:
https://www.tripleclicks.com/ECA/ECAMyStore?id=25728
______________________________________________________
TESTIMONIALS OF THE WEEK
Affiliates weigh in on the recent a2a and Forum updates:
http://news.sfimg.com/2015/03/12/important-a2a-and-forum-update/
"Thanks for all the new developments. SFI is really a revolutionary network business that embraces all countries."
–Odion A.
"Just noticed a new 'Forum' tab on the homepage. Surely that will remind everyone to visit the Forum daily. I am grateful for all the new things we learn and all the encouragement…just awesome!"
–Isabelle S.
"I like this update! Awarding daily VP will be a great way to encourage new people to the Forum, allowing those people to see how big of a community SFI actually is and boosting morale in the process. I also think that the ten a2a friends is a good limit. Many old a2a friends were, sadly, cross-solicitation attempts."
–Juri M.
"Excellent move! The Forum has been developing nicely and provides so much benefit to active members. A very fitting replacement for the a2a. Thanks Gery and SFI Team!"
GT. B.
"I strongly support and I'm VERY thankful for this new feature! The poaching attempts/successes and cross-solicitation had become a serious issue with a2a to say the least! SFI just keeps getting better and better and better and better."
–Leon McKee
______________________________________________________
SFI BY THE NUMBERS
17th successful year for SFI (30th for SFI's parent company)
1.7 million affiliates (28,396 new added last week)
3.7 million TripleClicks members
88,802 commissionable products (776 new added last week)
3,908 E-Commerce Affiliates (in 148 countries)
101 LocalPay Merchants (in 29 countries)
Millions – Commissions paid out to our affiliates (in US Dollars)
______________________________________________________
GREAT IDEAS TO GROW YOUR BUSINESS
Review SFI Basics
https://www.sfimg.com/SFIBasics
Take a LaunchPad refresher course
https://www.sfimg.com/LaunchPad/
Join the discussions at the Forum
https://www.sfimg.com/forum
Check out our exclusive Internet Income course
https://www.sfimg.com/Training/InternetIncome
Review your To-Do List
https://www.sfimg.com/Home?section=ToDo
Promote your SFI business
https://www.sfimg.com/Resources/MarketingTools
Calculate your coming earnings
https://www.sfimg.com/PopUp/EarningsCalculator
Review SFI Power Tools
https://www.sfimg.com/PowerTools/
Learn about all the ways to earn
https://www.sfimg.com/compplan/
Grow your SFI downline
PSAs To Go: https://www.tripleclicks.com/detail.php?item=344064
S-Builder Co-op: https://www.tripleclicks.com/detail.php?item=38631
Boost group activity with gift certificates
https://www.sfimg.com/Support/Solution?catid=26444&id=191103
Earn some cool, new badges
ttps://www.sfimg.com/Reference/SFIBadges
Review all the things you can do with TCredits
http://www.tripleclicks.com/MightyTCredits.php
Check out the latest Eager Zebra games
http://www.tripleclicks.com/indexContests.php
Get answers to all your SFI-related questions
https://www.sfimg.com/Support/
______________________________________________________
DISCUSS IT!
Want to discuss one of this newsletter's topics? Go to https://www.sfimg.com/forum, choose the appropriate category, then click on the green "Start a Thread" button located in the top right corner to start a discussion.
Tip: Someone may have already started a thread, so check the NEWEST section first.
______________________________________________________
______________________________________________________
SFI
8251 Northwoods Drive, Suite 200
Lincoln, NE 68505 USA
Ph 402-434-8480, Fax 402-434-8483
– Questions? Do not reply directly to this e-mail. Instead, go to our Support Desk at: https://support.sfimg.com
– Not sure how to get started with SFI? Go to: https://www.sfimg.com/start